DG bed SOFTLINE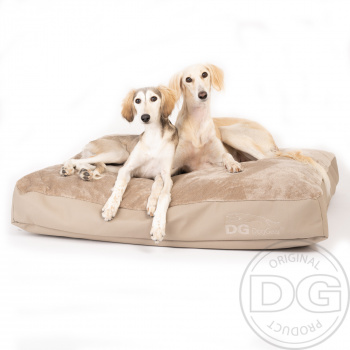 Dog bed made of above-standard upholstery fabrics
Advantages DG Sleeping bed SOFTLINE
- Removable, air-permeable and machine-washable covering made of materials with Oeko-Tex® certification
- The lower and the side parts are made of eco leather imitation. Unlike ordinary leather imitations, this textile is machine-washable and easy to maintain.
- The textiles do not only feel smooth but they are also resistant. The measured abrasive resistance (Martindale value) is 50000 cycles.
- The stuffing of the inner cushion is made of special polyester stuffing. The stuffing can be taken away or refilled as necessary.
- It protects from the coldness from the floor.
Sizes:
S - 70 x 55cm, height of the cushion about 10cm
M - 90 x 75 cm, height of the cushion about 12cm
L - 105 x 95 cm, height of the cushion about 17cm
We believe that your dog will get to like the dog bed.
Maintenance: Machine-washable up to 30 °C. Do not use bleaching agents or abrasives. Do not tumble dry.
Gallery