DG COMFY CAVE dog bed TENERELLO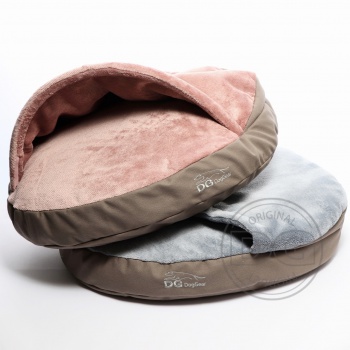 Dog bed made of above-standard upholstery fabrics

The dog bed is ideal for dogs that love relaxing between the warm sheets. It provides them with a pleasant and private place all year round.
Advantages of DG COMFY CAVE Dog Bed TENERELLO:
- Removable, air-permeable and machine-washable covering made of materials with Oeko-Tex® certification
The textiles feel soft and smooth.
- The lower and the side parts are made of eco leather imitation. Unlike ordinary leather imitations, this textile is machine-washable and easy to maintain.
- The stuffing of the inner cushion is made of special polyester stuffing with Oeko-Tex® certification which ensures harmlessness. The stuffing is heavier than classical hollow fibre thanks to which the dog bed lies on the floor more stably. The stuffing can be taken away or refilled as necessary.
- It protects from the coldness from the floor.
Sizes:
S - 60cm diameter, height of the cushion about 10cm (suitable for small IG)
S+ - 70cm diameter, height of the cushion about 10cm (suitable for Italian greyhound)
M - 85cm diameter, height of the cushion about 12cm (suitable for whippet)
L - 112cm diameter, height of the cushion about 15cm (suitable for bigger sighthoud breed)
We believe that your dog will get to like the dog bed.
Some dogs find this type of dog bed new and it is good to give them some time or show them how to enter the dog bed. The package also contains a plastic tube that can be used for bracing the front entrance. Some dogs prefer dog beds without this reinforcement.
ÖKO-TEX is an international association testing ecological safety of textiles. The samples of the textile are tested for PH, formaldehyde, pesticides, heavy metals etc. The presence of allergenic and carcinogenic dyes is tested at the same time as well.
Maintenance: Machine-washable up to 30 °C. Before washing the cover of the dog bed, remove the bearing tube from the cover of the coop. Do not use bleaching agents or abrasives. Do not tumble dry.
Gallery