DG Exclusive collar special DARK BROWN SNAKE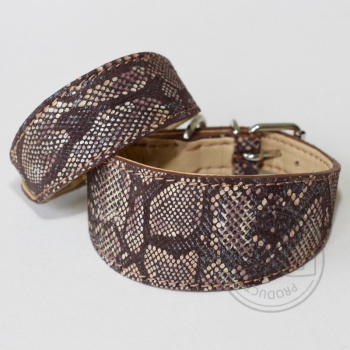 Top quality hand-made products manufactured by experienced saddler. Special edition.
The collar is padded and fully lined with lamb skin. The upper layer is made out of authentic cowhide. This cowhide was coated with design Italian leather, which is using for production of fashion goods.

This collar is recommended for fashion use only.

The collar is:
- skin-lined in their full length, which prevents the chafing of hair on the neck
- stitched through in its full length
- the ends of the leather lining are bent inwards for better look, and the ends of the upper leather are treated and settled.
- padding is made of special PUR foam; its thickness and density differs according to the collar size.

ani
Gallery