DG Sleeping bed LOUNGE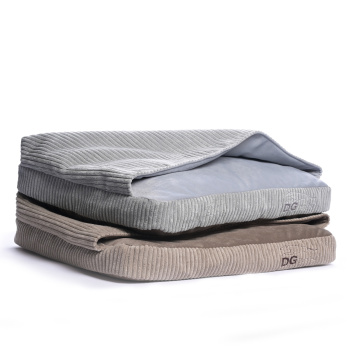 Dog bed made of above-standard upholstery fabrics

The dog bed is ideal for dogs that love relaxing between the warm sheets. It provides them with a pleasant and private place all year round.
Advantages DG Sleeping bed LOUNGE
- Removable, air-permeable and machine-washable covering made of materials with Oeko-Tex® certification
- The textiles do not only feel smooth but they are also resistant. The measured abrasive resistance (Martindale value) is 50000 cycles.
- The stuffing – hollow fibre for bigger comfort and heat insulation. This stuffing can be removed or added as needed.
- It protects from the coldness from the floor.
Sizes:
S - 70 x 55cm, height of the cushion about 10cm
M - 90 x 75 cm, height of the cushion about 12cm
L - 105 x 95 cm, height of the cushion about 15cm
We believe that your dog will get to like the dog bed.
Some dogs find this type of dog bed new and it is good to give them some time or show them how to enter the dog bed.
ÖKO-TEX is an international association testing ecological safety of textiles. The samples of the textile are tested for PH, formaldehyde, pesticides, heavy metals etc. The presence of allergenic and carcinogenic dyes is tested at the same time as well.
Maintenance: Machine-washable up to 30 °C. Do not use bleaching agents or abrasives. Do not tumble dry.
Gallery