DG WH FLUFFY PLUS "ash rose"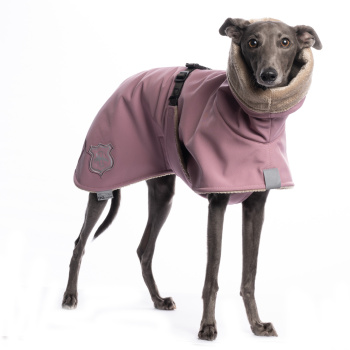 Made especially for Whippets
A new model with an improved cut.
We've also add the small second fastening situated under the belly to protect the jacket against turning over.The main fastening by a plastic buckle is now more adjustable.
This jacket meets the greatest demands for outdoor activities, both in winter as well as in the rainy spring or autumn weather.
Upper layer is made out of the Soft Shell® - membrane, which is resistant to wind and water (waterproof, moisture column 10 000 mm), and is also air permeable; material is used mainly in a production of winter sports jackets. Inner material is high quality polyester fluffymaterial. With reflective components for more safe.
In winter, wearing underwear under the raincoat is recommended.
Machine washable at max 30 °C. Do not use fabric softener. Never leave a dressed dog unattended. Never leave your dog dressed in heated areas – take care of your pet's safety!
The top layer (of the fabric) is protected by a standard waterproofing agent which needs to be renewed after several washes. The impregnation does not impact the fabric's waterproofness, however, it is possible for the top layer of the fabric to soak up water if not treated with waterproofing agent. To renew the waterproofness, we recommend impregnation agents using nanotechnology, available at shops selling equipment for outdoor activities.

If you are not sure about sizing, do not hesitate and contact us at info@dgdoggear.com